---
About The Komen Lubbock Affiliate
Breast cancer is not predictable. It is a random disease. It knows no boundaries… age, race, religion, socioeconomic status, or geography. This year, more than 203,000 women will be diagnosed with breast cancer, at least 13,000 in Texas. Nearly 40,000 will die, including 2,600 Texans. The Komen Foundation is working to reduce those numbers locally and globally and to make a difference in the lives of the women behind the numbers.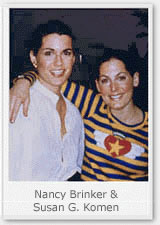 The Susan G. Komen Breast Cancer Foundation was established in Dallas in 1982 by Nancy Brinker in honor of her sister, Suzy Komen, who died of breast cancer at the age of 36. The Foundation, which is a 501 (c) 3 public charity, operates with a network of volunteers working through a network of local affiliates and more than one hundred Komen Race for the Cure® events. The mission of the Komen Foundation is to eradicate breast cancer as a life threatening disease by advancing research, education, screening and treatment.
Since its inception, the Komen Foundation and its Affiliates have raised in excess of $600 million. On the national level, the Komen Foundation runs one of the most innovative, responsive grant programs in breast cancer today, with a focus on research projects with potential for high impact that may not be considered by other agencies.
On the local level, the Komen Lubbock Affiliate was established in 1995 to spread the life-saving message of early detection and to support breast cancer screening and diagnostic programs in West Texas.
Up to 75 percent of the net income from the Komen Lubbock Race for the Cure® and other fundraising activities remain in the community to fund breast cancer education and screening programs in a 16 county area. The Komen Lubbock Affiliate shares a minimum of 25 percent of our net income to support The Komen Foundation Award and Research Grant Program.

---