---
BMW Ultimate Drive  
AUGUST 29, 2006  
Lubbock Drive for the Cure
View photos from the event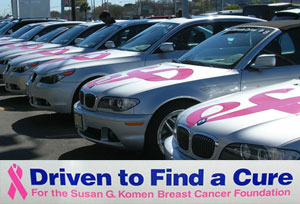 BMW – The Ultimate Drive® is a driving program created by BMW to raise awareness and funds for breast cancer research and community out reach programs.  The general public is invited to drive the fleet of BMW's at participating dealerships during an Ultimate Drive event. 

For each mile driven in one of the BMW – The Ultimate Drive® vehicles, $1.00 is contributed to the Komen Foundation to support breast cancer research, education, screening and treatment programs. The program consists of an Eastern and Western fleet of BMW's each headed by a lead Signature Car.
During the event, local heroes are recognized for achievements and commitment to the fight against breast cancer and embody the core message of BMW – The Ultimate Drive®. Through their experience as breast cancer survivors, they have learned the importance of breast cancer awareness, early detection and education. 2005 proves once again to be a very successful year for this program and will raise $1 million for a total of $9 million over the nine years of the program.
Call 1-877-4-A-DRIVE to register.
---